Leisure complex set to create 300 jobs in Aberdeen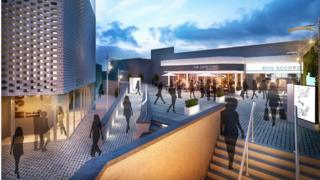 Up to 300 jobs are set to be created if plans for a new restaurant and cinema development in the heart of Aberdeen get the go ahead.
The multi-million pound plans to expand the Bon Accord and St Nicholas shopping centres have been submitted to Aberdeen City Council.
They include a 28,000 sq ft cinema complex featuring seven screens, with the capacity to seat 800 people.
Seven new restaurants would also be created in the expansion.
F&C REIT, owner of the Bon Accord & St Nicholas centres, believes the project can complement the landmark developments taking place in the traditional core of Aberdeen.
The design includes the creation of a new entrance from Upperkirkgate at Drum's Lane.
This would lead to an external courtyard and provide access to the upper level of the mall where the new leisure area would be situated.
The plans work within the existing footprint of the Bon Accord mall at the city shopping centres.
If approved, the restaurant phase could be completed by autumn 2015 with the cinema complex following early in 2016.
Craig Stevenson, Bon Accord & St Nicholas centre manager, said: "We are incredibly enthusiastic about these plans, which have the potential to bring substantial economic benefits to Aberdeen through the construction phase and then when complete.
"As well as our own significant financial commitment to the construction, there will be additional investment by operators in the individual units with very positive spin-offs to the economy in the north east."
Other current plans for city centre regeneration include the Marischal Square development by Muse, which would bring 175,000 sq ft of office space as well as a four star hotel.
Dandara's site at The Point, overlooking Union Terrace Gardens, will provide 72,600 sq ft of office accommodation.