Peterhead brings in falconer to tackle seagull menace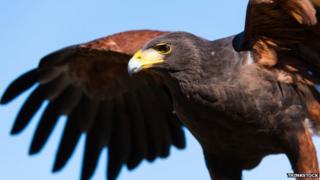 An Aberdeenshire town has called in a hawk to tackle an invasion of seagulls.
People in Peterhead say the problem of scavenging birds swooping on locals is the worst the town has ever seen.
Aberdeenshire Council has recruited a falconer to patrol the area, scaring off the gulls, which have had a "very successful" breeding season.
The technique has previously been used to drive off nuisance seagulls from Wimbledon and Aberdeen FC's Pittodrie Stadium.
Handler Ian Davidson of NBC Bird and Pest Solutions and his trusty Harris hawk Storm have started a series of patrols around Peterhead, which will run throughout August.
The hawk will not harm the gulls, but the presence of the predator will disturb them and distract them from scavenging.
Herring and Lesser Black Backed Gulls are increasingly nesting around Peterhead, and their numbers have been swelled following a bumper breeding season.
'Very aggressive'
A council survey found that the nuisance cased by the birds was a "key concern" for residents.
The local authority is now looking at options to reduce the seagull population, including nest and egg removal and gull-proofing methods for buildings.
Peterhead town centre project officer Heather Barclay, a former countryside ranger, said: "The nesting season typically begins in April, and the current issues in Peterhead are caused by young birds hatched this year competing for food with adult birds.
"Gulls can be very aggressive at this time, not only with each other but also towards people.
"In the next few weeks, the problem will reduce as the young birds naturally disperse out to sea and further along the coast.
"In the meantime, it's hoped the 'fly and scare' measures will reduce the risk of attacks on people.
"Anyone in the habit of feeding them intentionally can also help by stopping, as it's simply leading them into a life of crime, associating people with a source of food."