Ground crew fix hovering helicopter's landing gear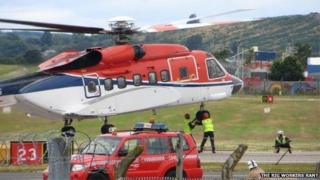 The landing gear of a helicopter had to be lowered by hand by ground staff as it landed at Aberdeen Airport.
The CHC helicopter was flying in to Aberdeen with 16 passengers and two crew aboard when an indicator came on signalling an undercarriage issue.
Ground crew had to step in and manually deploy the landing gear as the helicopter hovered just off the ground.
An image of the ground crew working on the helicopter was posted on the Facebook page The Rig Workers Rant.
A spokeswoman for CHC Helicopter said Tuesday's flight landed normally after the repair, and commended crew for the way the incident was safely dealt with.