Bank worker Satnam Kaur who stole £120,000 from customer jailed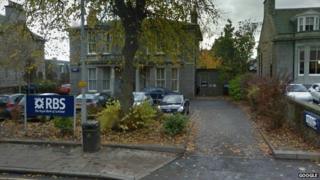 A bank worker has been jailed for a year for stealing £120,000 from a customer's account.
Satnam Kaur was working at Royal Bank of Scotland in Aberdeen when she took the money from Robert Brown's account.
After writing herself a sizeable cheque, the 30-year-old transferred large sums of money home to India.
Aberdeen Sheriff Court heard that Kaur, of Glasgow, would have faced a longer sentence but for a paperwork error by the Crown.
Kaur was working as a customer adviser at the Albyn Place branch of RBS in Aberdeen when she took the money between October 20 and November 21.
She used her unique identification number to access Mr Brown's account and transferred funds totalling £120,000 into the account of Robert Mann.
She then wrote a cheque in Mr Mann's name forwarding the funds on to her Lloyds TSB account.
Paperwork error
Kaur claimed that Mr Mann, who she said was "like a father figure" to her, had given her permission to make the transfers - something he denied in court.
She also tried to claim she had been gifted the cash as "hush money" by Mr Brown after alleging he had touched her inappropriately.
The bank worker - who has since been sacked - was also found guilty of moving £88,000 of the cash out of Scotland at her trial earlier this month.
None of the money has been recovered, but Mr Brown has since been reimbursed by the bank.
Kaur was jailed for 12 months, but could have faced a longer sentence if not for a blunder by the Crown.
She was originally charged on indictment and was due to go on trial last year, but it emerged that the phrase "by authority of Her Majesty's Advocate" had been missed out from the paperwork served against her.
This meant the indictment was incompetent, as it failed to show that the case had been officially authorised, and the trial collapsed.
Sheriff Christopher Shead said the sentencing powers available to him would have been far greater had Kaur been found guilty on indictment.