Sightings of native red squirrels rise in Aberdeen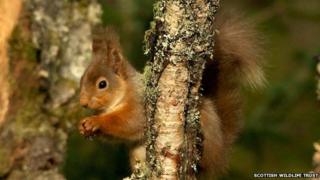 Sightings of red squirrels are on the rise in the heart of Aberdeen.
Native red squirrels are increasingly under threat from disease and invasive greys, but now appear to be making a comeback in the city.
The animals have been spotted often in the West End, Bridge of Don, Craigiebuckler and Kincorth Hill areas.
The Saving Scotland's Red Squirrels campaign has called on local residents to report sightings online to help map habitats.
Red squirrels have been absent from much of Aberdeen, alongside other parts of the country, for decades.
Since the introduction of grey squirrels from North America in the 19th century, reds have faced a battle for food and territory as well as against the deadly squirrelpox virus.
Over 75% of the UK's surviving population of reds is found in Scotland, with 95% of the animals in England and Wales being wiped out since 1952.
However an intensive trapping programme to remove grey squirrels from parks and gardens across Aberdeen has seen reds become increasingly common, especially in the West End.
'Population shifting'
The Saving Scotland's Red Squirrels campaign is appealing for the public's help in tracking red squirrel populations, with sightings closer to the city centre on the rise.
Project officer Steve Willis said the animals had even been seen "dashing across North Anderson Drive in the morning rush hour".
He said: "In order to build up an accurate picture of where red squirrels can be found across Aberdeen and how that population is shifting, we really need the public to be our eyes and ears and report their sightings.
"From early June the first litters of young red squirrels have been dispersing from the woods where they were born.
"It's looking like a great year for red squirrels, and as squirrels can breed twice a year there will probably be another flush of young ones in September.
"Every record, of red or grey squirrels, is incredibly useful, and it's a quick and simple way to take part in some meaningful citizen science."
The Saving Scotland's Red Squirrels project is run by the Scottish Wildlife Trust, Scottish Natural Heritage, Forestry Commission Scotland, Scottish Land and Estates and the Red Squirrel Survival Trust.