Glasgow 2014: Shetland swimmer takes part in final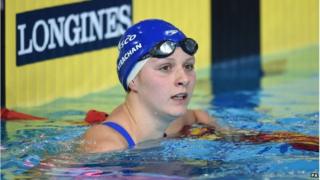 Shetland swimmer Andrea Strachan has taken part in the final of the 50m breast stroke at the Commonwealth Games in Glasgow.
She finished eighth, with a time of 31.99 seconds.
She came fourth in the second semi final on Thursday evening with a time of 31.52 seconds.
Andrea joined fellow Scots Corrie Scott and Kathryn Johnstone in the final - with Corrie Scott winning bronze.