Public hearing possible for Marischal Square plan in Aberdeen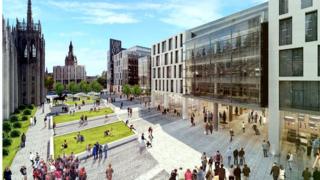 A public hearing could be held into a controversial plan to redevelop the site of Aberdeen City Council's former headquarters.
Muse Developments wants to create offices, shops, restaurants and a hotel as part of the £107m Marischal Square plan.
There has been some public criticism of the proposal.
A report will go before next week's planning committee to establish whether a public hearing should be held.
The report cannot make any assessment on the proposal itself - only on whether the hearing should take place.
A public hearing is held when the application is deemed to have significant public interest.
If councillors agree next Thursday that a hearing should take place, then a date will be set and interested parties invited to speak.
In 2011, more than 1,000 council staff vacated the 14-storey St Nicholas House building, erected in 1968, for the newly-refurbished Marischal College building.