Probe after NHS Orkney patient records found on pavement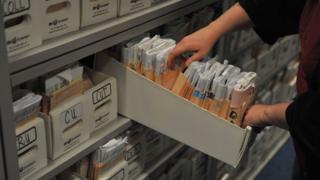 NHS Orkney is to carry out an internal investigation into what has been described as a "serious breach of patient confidentiality".
The admission and treatment records for seven patients were found by a member of the public lying on the pavement near Balfour Hospital on Tuesday.
The records include detailed information about each patient's condition and treatment.
They were found by a member of the public and handed to BBC Scotland.
The information had been printed off and it is thought dropped by a member of staff outside the hospital.
'Handover notes'
NHS Orkney chief executive Cathie Cowan said: "I have to be put my hands and say there has been an error here - a significant error - and I'll do everything in my power to identify how it's happened and take steps to stop it happening again."
She insisted that incidents like these were "very, very rare".
"We investigate, we take steps and we take corrective steps to prevent them happening again," Ms Cowan said.
She explained that the misplaced documents were handover notes given by doctors in the changeover of shifts.
NHS Orkney would be writing to all the patients and family members involved to apologise, she added.