Aberdeen Isis man Abdul Rakib Amin 'willing to die'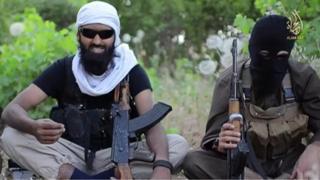 The Aberdeen man who appeared in a recruitment video for the Islamic militant group Isis has said he is prepared to die for what he believes.
Abdul Rakib Amin, who is believed to be 26, was seen urging western Muslims to join the fighting in the jihadi film.
He has now spoken to ITV's Good Morning Britain.
He said: "I left with the intention not to go back, I'm going to stay and fight until the Khilafah (rule of Islam) is established or I die."
Amin said: "I left the UK to fight for the sake of Allah to give everything I have for the sake of Allah.
"One of the happiest moments in my life was when the plane took off from Gatwick Airport, I was so happy, as a Muslim you cannot live in the country of Kuffars (disbelievers).
"I didn't know how to fight with weapons before, so everyone has to go to a training camp, and after the training camp you go to an Islamic training camp."
It is understood he attended Sunnybank Primary and St Machar Academy in Aberdeen.
The original 13-minute video, There Is No Life Without Jihad, was posted by accounts linked to Isis.