Composer Peter Maxwell Davies on his world-famous songs for children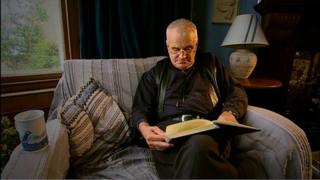 "I always thought the best way to get people to come to the festival was to involve their children", says composer Peter Maxwell Davies.
That is his simple explanation for creating his now world-famous song cycles for children.
Kirkwall Shopping Songs were first performed in 1979 at the festival he founded in Orkney just two years before.
"When I got out of bed my mother said to me, that I must get the messages, then she could be quite free, to bake a cake with currants in and bannocks for our tea, for Granny's due from Westray in a boat across the sea."
Originally Kirkwall Messages, the title was changed to avoid confusing international choirs, although the references to local landmarks, language and people remain and the songs have since been performed everywhere from Berlin to Bath.
But it is Orkney, where Max has lived since 1970, where the songs are most personal.
Specially written
On Tuesday night, in the Orkney Theatre in Kirkwall Grammar School, hundreds of children from across the islands gathered to sing them in tribute to the composer.
Many are the children of the children who sang in the original performances. Ruth Harvey sang Seven Songs Home at the festival in 1981. Today she is principal teacher of music at Kirkwall Grammar School and conducting the 2014 choir of island children.
"Many, many moons ago, the British premiere of Seven Songs Home was staged here and I was part of that choir. I still remember most of the words quite well," she says.
"The thing was he was writing specifically for us, and the instruments we played in school. It's lovely to have something which is specially written for you and so relevant to the land you live in."
The lyrics allowed local children to relate to classical music. The instruments - recorders and violins among them - were tailored to suit what schools had. But they were far from simple songs.
"I think as a composer writing for children, you write up, not down," says Max.
"There's a fine line between making music which is too challenging and children give up, or too easy and they get bored. It should be challenging. Children can do anything if they have the right teacher."
As a young composer, Max had the reputation as an enfant terrible, someone who railed against the establishment.
Even now, as a soon to be 80-year-old veteran composer and current Master of the Queen's Music, he doesn't shy away from controversy.
And he's not afraid to stand up for his great passion - music education.
"I feel it's very bad. We're seeing the demise of school orchestras. School choirs barely exist.
"When I wrote these pieces, I just took it for granted they'd still be part of the culture but successive governments have cut and cut and cut.
Good results
"Everything now is based around instant gratification, getting good results without any effort and that's a very bad outcome.
"But I will continue to write what I believe is educational music and despite being master of the Queen's music, I will continue to rail against the establishment."
The biggest battle of late for Max though, has been a health one. For the past 18 months, he's undergone treatment for leukaemia.
It has meant he has missed three festivals, but this year he's back in time for his 80th birthday celebrations.
"Orkney is my home so it's always a pleasure to be here and people are always so pleased to see you," Max says.
"It has been an awful year but it is good to be back. And music has helped.
"When I was writing my 10th symphony in hospital, I realised how important music was.
"The medical treatment was wonderful but the thought of composing new music was important."