Abandoned dog Bolt finds new home in Inverurie after 550 days in kennels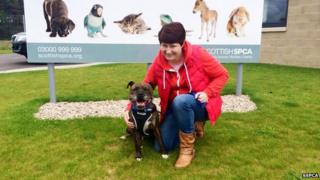 A lonely dog who spent over 550 days in kennels has finally found a new home.
Bolt the Staffordshire bull terrier was taken in by Nikki and Martin Shaw, of Inverurie, Aberdeenshire, after the Scottish SPCA made a special plea to find him an owner.
The staffie had been moved from the charity's Glasgow centre to Drumoak after more than 18 months without an owner.
Nikki said: "We're really pleased to have been able to help Bolt."
She added: "I'd been looking at the SSPCA's website for months and kept going back to Bolt.
"Martin and I eventually decided that the time was right for us to re-home a dog and, when we went along to meet him, we both knew he was the one for us.
"He slept for almost two days straight when we first got him home and it was lovely to see him so relaxed.
"It was as if all the stress of being homeless had finally been lifted from him.
"It's a shame that staffies get such a bad reputation when they are actually really good dogs."
Scottish SPCA centre assistant Debbie Innes said: "Everyone here is over the moon that he has finally found his forever home and we just know he is going to be spoiled rotten."