Men 'need humour and male support' to fight obesity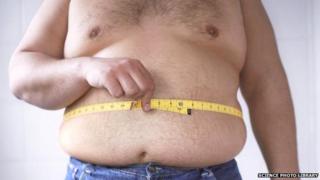 Men trying to fight obesity respond well to a humorous and "business-like" approach, a study suggests.
Researchers from the universities of Aberdeen, Stirling and Bournemouth also found moral support from other men was important to success.
The study indicates fewer men join weight loss programmes but they are more likely than women to stick with them.
The team recommend weight loss programmes tailored for men.
Programmes in a sporting venue, such as "Football Fans in Training" run by many Scottish football clubs, were found to especially effective.
But the researchers found that men who eat less tended to lose more weight than those who simply tried to burn off calories through exercise.
'More research'
The chief investigator, Prof Alison Avenell, a clinician from the Health Services Research unit at the University of Aberdeen, said: "More men than women are overweight or obese in the UK.
"But men are less likely to see their weight as a problem and engage with weight-loss services, even though obesity increases the risk of many serious illnesses.
"This could be because dieting and weight-loss programmes are perceived as being feminine activities.
"While more research is needed into the effectiveness of new approaches to engage men with weight-loss, our findings suggest that men should be offered the opportunity to attend weight loss programmes that are different to programmes which are mainly attended by women."
The research is based on analysing previous international studies and is published in the journal of the National Institute for Health Research.