Scotland set for bigger European fishing funds share within UK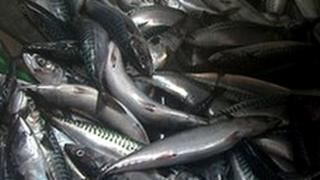 Fishing communities in Scotland are to get a greater share of European money awarded to the United Kingdom to help grow the industry, Fisheries Minister George Eustice has announced.
The European Maritime and Fisheries Fund is currently worth 138m euros a year to the UK, and Scotland gets just over 40%.
Scotland will get 46% of what is expected to be a larger settlement when it is announced later this week.
The deal will last until 2020.
'Fantastic news'
Meanwhile, the Scottish Pelagic Processors Association (SPPA) has welcomed a survey by the International Council for the Exploration of the Seas (ICES) which indicates North East Atlantic mackerel stocks are at their highest level for many years.
SPPA chairman Ian McFadden said: "This is fantastic news and testament to the seven North East Atlantic fisheries, which came together to agree a management plan to safeguard the sustainability of the mackerel stock.
"Mackerel is the UK's largest fishery. It is worth around £500m and employs over 2,000 people."