No action over Stewart Milne swearing after Aberdeen cup win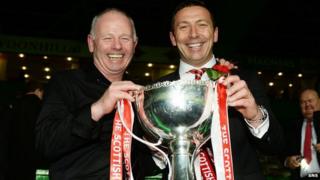 No action is being taken after Aberdeen FC chairman Stewart Milne swore on BBC Radio Scotland following the club's Scottish League Cup triumph.
Broadcasting watchdog Ofcom received a complaint about one word used by Mr Milne after Aberdeen beat Inverness 4-2 in a penalty shoot out.
The presenter and Mr Milne had both immediately apologised.
Ofcom said guidelines had been breached, but ruled no action was required.
The ruling stated: "Ofcom took into account that this use of the most offensive language was during a live unscripted interview and that the sports presenter promptly intervened and apologised for the inappropriate language used.
"We noted that further apologies followed by Stewart Milne and the studio presenter.
"Ofcom therefore considers the matter resolved."
'Emotional language'
Mr Milne had said at the time: "My apologies. I hope there was nobody listening."
The presenter responded: "I think the whole of Aberdeen and the north east were listening.
"Apologies to anyone who was offended by that use of extreme emotional language."