Aberdeen's former St Nicholas House council HQ demolition work postponed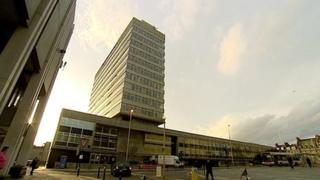 Demolition work on the former Aberdeen City Council headquarters has been halted following the intervention of the Health and Safety Executive (HSE).
Work had been due to bring down what remains of St Nicholas House this week.
It has been postponed until at least next week.
The city council and its demolition contractor Safedem acted voluntarily, and said they were seeking a quick resolution.
A spokesman for the HSE said: "As would be routine for a project of such complexity, we have been working with the contractor to ensure safe demolition.
"They have voluntarily stopped work until we meet them next week to discuss the way they propose to carry out the remaining six floors of the demolition."
Muse Developments wants to create offices, shops, restaurants and a hotel on the site as part of a £107m plan.
In 2011, more than 1,000 council staff vacated the 14-storey St Nicholas House building, erected in 1968, for the newly-refurbished Marischal College building.