Aberdeen street light repairs 'could cost £2m'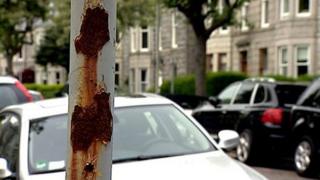 Replacing badly corroded street lights in Aberdeen could cost £2m.
Stringent testing was introduced after one of the lights fell over unexpectedly.
A report prepared for councillors says the city has 94 lamp posts which are so badly corroded they need to be replaced immediately, and a further 110 should be scheduled for replacement.
Hundreds more might have to be renewed, depending on the results of further tests.
A report to the enterprise, planning and infrastructure committee next week says the bill could rise to £2m over the next five years.