Pope's blessing marks 70th anniversary of Orkney's Italian Chapel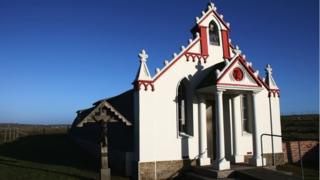 The Pope has sent a special blessing to mark the 70th anniversary of one of Orkney's most unusual landmarks.
The Italian Chapel was built during World War Two by Italian prisoners of war.
The ornate building has since become one of Orkney's top tourist attractions.
A special mass was celebrated in the tiny building by Papal ambassador Archbishop Antonio Mennini and former Glasgow archbishop Mario Conti.
In his message, Pope Francis prays that "this chapel, built in time of war, may continue to be a sign of peace and reconciliation".
The mass was also attended by visitors from the town of Moena in northern Italy, home of Domenico Chiocchetti, the main prisoner-artist who helped decorate the chapel.
The Italian Chapel can indirectly trace its origins to one of the great wartime tragedies, the sinking of the battleship Royal Oak in Scapa Flow by the German submarine U-47 with the loss of 833 crew in 1939.
The following year, Winston Churchill approved the construction of new causeways, the Churchill Barriers, to help protect the British ships.
From 1942, hundreds of Italian POWs captured in North Africa were moved to the islands to help with the huge construction project.
Prisoners at one of the POW camps on Lamb Holm requested a place of worship and were permitted to build the chapel.
Two Nissen huts were transformed into a tiny basilica-style space filled with images of angels and the Virgin Mary under the title Regina Pacis - Queen of Peace.
This year marks the 70th anniversary of the departure of the prisoners.