Aberdeen Council votes for by-law against illegal traveller camps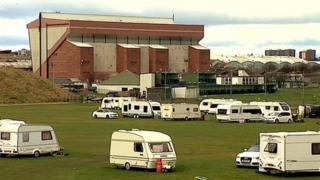 Aberdeen councillors have voted in favour of introducing a by-law to tackle illegal traveller encampments.
It would ban people camping at several sites across the city - including public parks - but would require the approval of the Scottish government.
Councillors voted 28 to 12 in favour of a motion from new council leader Jenny Laing, after a lengthy and heated debate.
However, the by-law was described as a "gimmick" by opposition councillors.
Opposition leader Callum McCaig urged his colleagues to instead deal with the lack of authorised sites in the city. Aberdeen only has one legal site, which is already at capacity.
But the majority of the city's councillors agreed that a by-law would go some way to dealing with the growing numbers of travellers camping illegally on the city's public areas.
The decision will now be brought before the Scottish government for approval.