Aberdeen Maternity Hospital told to clean theatres after critical report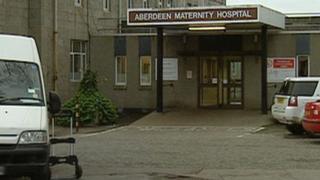 Aberdeen Maternity Hospital has been given one month to clean up its theatres following a critical report from inspectors.
The hospital was told to clean up its wards and theatres after inspections last summer and autumn.
The Healthcare Environment Inspectorate said improvements had been made.
However, significant concerns were raised about contaminated instrument trays and sterile packs, and high levels of dust.
Inspectors also reported an incident to the Health and Safety Executive. A porter, who was not wearing protective clothing, was exposed to blood leaking from a clinical waste bag.
NHS Grampian medical director Dr Roelf Dijkhuizen said: "We acknowledge that two of the requirements were only partially met.
"Although the report notes the progress being made, work continues on new auditing arrangements for ensuring theatre equipment is ready for use."
'Vital work'
Health Secretary Alex Neil said: "While I welcome the improvements at Aberdeen Maternity Hospital since last October, there is still clearly work to be done.
"I expect the board to continue to focus on this vital work so that parents-to-be can be confident in the cleanliness of wards and care provided to their new born babies at the hospital.
"We will continue to monitor the board's progress to ensure it drives up standards provided at the maternity unit."
He added: "This report highlights the importance of these inspections and other measures to ensure that action is being taken to tackle healthcare associated infections and improve standards of care in Scottish hospitals."
Meanwhile, NHS Shetland is seeking reassurances from NHS Grampian that improvements are being put in place as soon as possible.
About 100 women travel to the hospital each year from Shetland to have their babies.