RAF Lossiemouth personnel take part in Elgin parade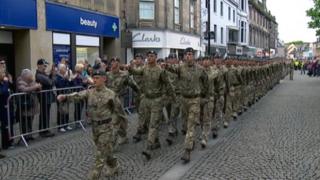 More than 130 RAF personnel have marched through the centre of Elgin in one of the largest parades the town has seen.
The Duke of York took the salute from the troops of 5 Force Protection Wing based at RAF Lossiemouth.
It followed their recent return from a six-month tour of duty in Afghanistan. They had been providing ground security for airfields.
Prince Andrew previously honoured personnel at the base in March.
That was when the RAF's "Dambuster" squadron was temporarily disbanded as its Tornado aircraft were being withdrawn from service.
The famous 617 Squadron will be reformed in 2016, at its new location, RAF Marham in Norfolk.