Aberdeen's Haudagain roundabout: Keith Brown says work will not start early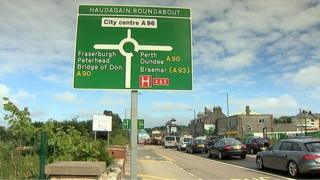 Transport Minister Keith Brown has insisted work on the notorious traffic blackspot at Aberdeen's Haudagain roundabout will not start early.
The local authority wants the Scottish government to press on with upgrading work.
Mr Brown said work would begin in 2018 once the full length of the Aberdeen bypass project was complete.
The council appearance was a rare move for a Holyrood minister, and came amid strained relations with the council.
The minister said he would be open to suggestions for fast-tracking some stretches of the bypass, such as around the airport, but that this would not affect the start time for work on the roundabout.
Mr Brown gave assurances that there would not be a gap between the two schemes, even if the bypass work finished early.
Mr Brown's appearance before the council's finance committee at the Aberdeen Town House came just two months after the local administration overturned a ban on ministers entering their buildings.
Reduce congestion
The Haudagain junction, at the bottom of Anderson Drive, has long been a traffic bottleneck.
But local and national politicians are going round in circles over how best to improve it.
Last week Mr Brown put plans on show to improve the roundabout with a new dual carriageway link connecting Great Northern Road and Auchmill Road.
He said the bottleneck had caused congestion for motorists using the A90 for many years and his option would reduce traffic jams and the risk of accidents.
The transport minister said he hoped to develop the proposals so that work was ready to begin in spring 2018 when the Aberdeen bypass was completed.
The council has also expressed concern about the impact of the link road on the residents of the city's Middlefield area.