Charlie Youngson, 5, gives Aberdeen firefighters £1 pocket money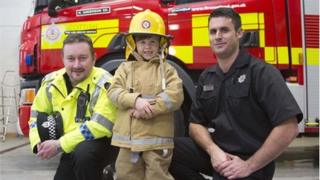 A five-year-old boy donated his £1 pocket money to firefighters after being impressed by their efforts battling a major blaze in Aberdeen.
Charlie Youngson was with his mother near the scene of the Burnside Centre fire on Sunday.
He gave police officer Jon Lloyd £1 to be passed to the "brave" firefighters.
Charlie was later invited to visit the station - and was given his £1 back, as well as a gift of a teddy bear. He now wants to be a firefighter.
North Anderson Drive station manager Gordon Riddel said: "The crews at the station were genuinely moved when they learned about Charlie's kind donation.
"It's fantastic that even from such a young age members of the community appreciate the work the Scottish Fire and Rescue Service do.
"We were really touched by Charlie's gesture, but it was only right that we gave him his pound back and offered him a look around a fire appliance instead."
Charlie's mother Vicki said: "Charlie had an amazing day meeting the firefighters.
"He can't really understand what the big fuss is about but he's really enjoyed his day out.
"He doesn't want to be in the police anymore - he wants to be a fireman. It has been overwhelming but everyone at the station has been great."
The demolition of the fire-hit former community centre in Aberdeen has begun.
About 50 firefighters tackled the blaze at the former community centre on Sunday evening. Demolition work on the building has now begun.