Call for oil seminar to be cancelled amid larger worker concern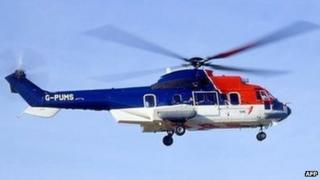 An offshore union has called for the cancellation of a seminar aimed at oil companies whose workers may end up being too big to fly in helicopters.
The Civil Aviation Authority has said it is planning to impose size restrictions on workers.
The RMT union said it feared the event is designed to advise firms on how to sack larger employees.
However Sandy Kemp, from solicitors Simpson and Marwick, said that was not the case.
Mr Kemp told BBC Scotland: "There is no intent to be harsh, the intent is to look at what the changes mean, and what in practical terms can be done to improve the position.
"There's a real concern nowadays about a lack of offshore workforce, the last thing that the offshore workforce need is to reduce its numbers.
"What is needed is to respond to the changes that the outline proposals require."
Fifth incident
Jake Molloy, from the RMT union, said: "I am outraged, as are many of our members, and workers generally.
"Oil and Gas UK, as an industry body, should be stopping this."
Oil and Gas UK said it was not involved in the seminar.
The new rules came out of a review of helicopter safety prompted by the deaths of four people when a CHC-operated Super Puma crashed into the sea off Shetland last August.
They include a restriction on the number of people allowed to fly.
It was the fifth serious incident involving an offshore helicopter in the UK sector since 2009.