Firefighters among seven hurt in Forres silo explosion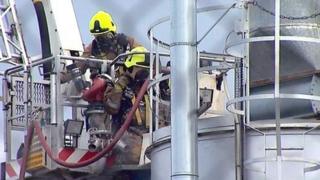 Seven people - including firefighters - have been injured after a fire and explosion at an industrial estate in Moray.
Emergency services were called to the incident involving a wood dust storage silo at James Jones and sons sawmill in Forres.
One person left seriously injured was airlifted to Aberdeen Royal Infirmary.
There was an explosion while firefighters were still tackling the original outbreak.
Six of the seven injured were taken to hospital.
The 59-year-old man taken to Aberdeen Royal Infirmary with serious injuries was believed to have been employed at the site.
Two firefighters - both aged 47 - were taken to Raigmore Hospital in Inverness.
A 20-year-old man was also taken to Raigmore for treatment. Two men, aged 24 and 62, were taken to Dr Gray's Hospital in Elgin.
A third firefighter suffered minor injuries and required no further treatment.
Did you take pictures - still or moving - of this incident? Send them to the BBC Scotland news website at newsonlinescotland@bbc.co.uk
Please ensure when filming or photographing an incident that you make your safety and the safety of others a priority.
If you submit an image, you do so in accordance with the BBC's Terms and Conditions.