Asda car fire: Men told to carry out unpaid work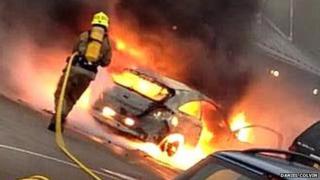 Two men who admitted setting fire to a stolen car in an Aberdeenshire supermarket car park while people were still sitting inside have been told to carry out unpaid work.
Greg Hatten, 24, poured petrol into the boot and Robert Beattie, 28, lit the fuel at Asda in Portlethen in March last year.
They admitted wilful fireraising and endangering lives.
They are to perform 270 hours unpaid work and be supervised for 18 months.
Lord Jones, at the High Court in Edinburgh, said: "In my view this offence was an act of utter stupidity."
He said it was "only by good fortune it did not have graver consequences".
Hatten, of Stonehaven, and Beattie, of Aberdeen, had originally been charged with attempted murder.
'Utter madness'
The men were caught on CCTV after driving the stolen vehicle to Asda.
They endangered the lives of Marcus Paton and Christopher Matthews.
A court previously heard that Paton had stolen the car. He was sentenced to 18 months in prison.
Frances Connor, counsel for Hatten, said: "This offence was committed against a background of taking significant quantities of alcohol and other substances on the day in question."
She said he was not a stupid man and accepted how dangerous the behaviour was.
Defence counsel David Moggach said what Beattie had been done was "crass stupidity" carried out in "a moment of complete and utter madness".