Bus driver Shane Mitchell praised for heart attack help in Aberdeen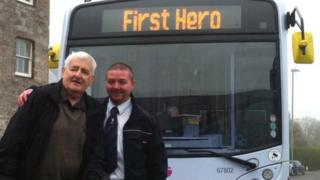 A bus driver who came to the rescue of a passenger having a heart attack in Aberdeen has been praised.
Shane Mitchell, 39, pulled over and performed CPR on 72-year-old Allan Mclean, who had collapsed.
Mr Mclean said there was "no doubt" that the driver had saved his life.
Mr Mitchell's employers, First, have now presented him with a Superstar award.
The driver said: "I knew something was wrong because the gentleman's lips had turned blue.
"I tried shouting in his ear, but there was no response, so then checked for a pulse, but couldn't find one. I asked one of my other passengers to call an ambulance, and then I set about trying to revive him.
"I opened his shirt, checked his airways and then began CPR. I just kept going until the ambulance arrived, hoping that I could get some form of response. The emergency services arrived within a few minutes and rushed him to hospital."
He added: "I didn't hear anything and I feared the worst, but I was contacted the next morning by the family of the passenger.
"They confirmed that he was going to be OK and that my actions had probably saved his life and certainly prevented brain damage - by performing CPR I had kept the blood pumping to the brain.
"I just did what anyone would have done in those circumstances."
'Good recovery'
Retired labourer Mr Mclean said: "I remember thinking I must be having a heart attack and then I blacked out. The next thing I knew I was in hospital wondering how I got there.
"Thankfully I'm making a good recovery.
"There is no doubt in my mind that he saved my life. I am incredibly grateful that I am able to continue enjoying my life and spending time with my two children, my grandson and my two granddaughters.
"It was really important to me to get the chance to thank Shane in person. He is a very unassuming and conscientious person but he deserves all the credit in the world."
First Aberdeen operations manager David Adam, said: "All at First Aberdeen are incredibly proud of Shane.
"There is no better example of customer service than saving the life of one of our passengers."