Aberdeen Waldorf School kindergarten gets lowest Care Inspectorate grade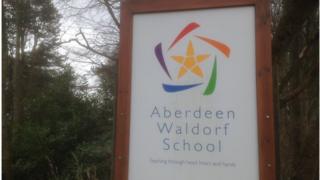 An independent Aberdeen school kindergarten which is to close this summer amid an investigation has been given the lowest possible grade for quality of care.
The Waldorf School, in Craigton Road, was founded in 1977.
The Care Inspectorate said last month it had received complaints about "staffing and the care of children" at the Waldorf School Kindergarten.
The Care Inspectorate and Education Scotland said improvement was needed.
The school council said earlier this month the "very difficult" closure decision came after reviewing the school's financial position.
The Care Inspectorate and Education Scotland have now published inspection reports into the nursery and school following an unannounced inspection which was completed in March.
The kindergarten was graded one - "unsatisfactory" - for quality of care.
'Difficult time'
Dr Robert Peat, director of inspection for the Care Inspectorate, said: "While our inspection raised serious concerns about this service, we had no immediate concerns about the safety or welfare of children attending the nursery and were prepared to work with the service to ensure it improved and met the standards we expect.
"Our report clearly outlines areas where improvement must be made. However, the management of the school have independently announced their intention to close the nursery at the end of the school year.
"We understand that this is a difficult time for parents and children who attend the nursery and will continue to offer them support and advice.
"The Care Inspectorate, Education Scotland and Aberdeen City Council have worked closely throughout this process to ensure that children and parents receive appropriate support."
He added: "We will continue to work closely with colleagues to ensure the closure of the nursery is planned and orderly, with disruption and distress to children kept to a minimum.
"We will also continue to monitor the service until it closes to ensure that required standards are met. It is important to stress that at no point did the Care Inspectorate seek the closure of this service."
Alan Armstrong, strategic director at Education Scotland, said: "As a result of our inspection, the school and kindergarten need to make some necessary improvements to the education provision."
Aberdeen Waldorf School council chairman Donald Phillips said: "The council of Aberdeen Waldorf School is committed to implementing the recommendations and requirements in the reports as we prepare to start what will be the school's final term, before our planned closure at the end of June.
"It is indeed regrettable that the school's standards fell short in a number of areas.
"The school council was aware of the need for improvements."
The Aberdeen Waldorf School was formerly based in the Gallowgate in Aberdeen city centre.
In 1996, the school moved to the former campus of the Aberdeen American School, in the suburb of Cults.