Highland clans hold celebration events in Inverness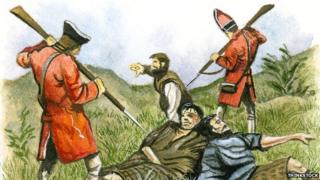 A group of Highland clans are holding an anniversary celebration in Inverness this weekend to mark the Battle of Culloden.
The Association of Highland Clans Society (AHCS) will also mark this year's Homecoming Festival.
Representatives from Jacobite groups from Ireland, France and North America will also meet at the Drumossie Hotel.
The Battle of Culloden on 16 April 1746 was the final confrontation of the 1745 Jacobite Rising.
The Jacobites supported the claim of Charles Edward Stuart to the throne of Scotland and England.
The Hanoverian victory at Culloden, near Inverness, ended the Jacobite aim of restoring the House of Stuart to the throne and Bonnie Prince Charlie was forced to flee from Scotland.
The Association of Highland Clans and Societies, which came into being a year ago at an eve of Culloden Commemoration event at the Highland Archive Centre, now represents some 24 clans from the northern and western Highlands.
Most of its member clans will be represented at this years Battle of Culloden Commemoration Service organised by the Gaelic Society of Inverness.
Highland Council will also detail the plans for the "Inverness Highland Meeting" in September.
The meeting is part of the two-month long "Highland Homecoming" which will feature an evening torchlit march of clans to the Northern Meeting Park where the Masters World Championship Highland Games will celebrate the ground's 150th anniversary.