Scottish independence: Carmichael promises more power for isles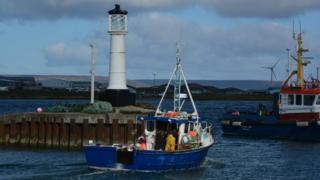 Scottish Secretary Alistair Carmichael has promised to deliver greater powers for the Northern and Western Isles.
The Orkney and Shetland MP said government from Edinburgh had been "just as bad and just as dangerous" for the islands "as it is from London."
He hopes to deliver "genuine and long lasting reform," and said an agreement should be in place by midsummer.
The Scottish government said it was committed to "a prospectus" for an Islands Act following a "Yes" vote.
Council leaders in Orkney, Shetland and the Outer Hebrides have been campaigning for local government to be given more control over island affairs in a campaign entitled "Our Islands Our Future."
Mr Carmichael told BBC Scotland he backed the campaign.
He said the isles should have "the maximum amount of control", with a devolved government in Edinburgh continuing to look after issues such as health and education, although control of defence, foreign affairs and "our bigger economy" should remain in London.
"We do very well as being part of the United Kingdom," said the cabinet minister, but "control is being stripped away, accountability is being taken away from towns like this in Kirkwall or Lerwick or Stornoway and held by the government in Edinburgh, and that's not good."
The Liberal Democrat said he was "determined" to see more power coming from Westminster to island communities and urged the Scottish government to do the same.
The Labour party has also pledged to "put more power in the hands of Scotland's island communities," with the Shadow Scottish Secretary Margaret Curran insisting that "devolution was never intended to concentrate power in Edinburgh."
"The islands may be remote," she said "but they shouldn't be remote from the business of the UK government."
A spokesman for the Scottish government said: "Our island communities can look forward to more autonomy in an independent Scotland. The Island Areas Ministerial Working Group has had constructive discussions on enhanced local autonomy across a range of important issues for the islands.
"This follows the Lerwick Declaration made in Shetland last July by the first minister, affirming the Scottish government's commitment to the principles of local decision-making and subsidiarity.
"The commitment of Scottish ministers to this process demonstrates how seriously we consider this issue. We look forward to concluding our discussions with the islands councils and agreeing a prospectus that will provide the basis for an Islands Act following a vote for independence."
The Scottish cabinet is due to discuss the issue when it meets on Lewis later.
The idea of having greater powers goes down well in the Bothy Bar in Kirkwall, where a group of folk musicians are on fine form.
The strains of three fiddles, two guitars and a clarsach, or Celtic harp, are ringing round the stone walls of the pub.
There is plenty of talent here - and plenty of opinion too.
The players are leaning towards independence for Scotland but they also want more local control of Orkney's affairs.
Resting his fiddle, Douglas Montgomery, 39, says: "I do know that Edinburgh's a lot closer to Orkney than London, so that's a good start."
There has been some talk of the Northern Isles striking out alone, whatever the result of the referendum on Scottish independence on 18 September.
More than 1,000 people have signed a petition urging the Scottish government to hold separate referendums a week later on whether Shetland, Orkney or the Western Isles should themselves become independent.
Mr Montgomery thinks that independence from Scotland for the islands sounds like "pie in the sky," but, he adds, "certainly, powers closer to Orkney would be grand."
Scandinavian countries
Owen Sinclair, 22 agrees that "powers being closer is definitely a good thing. It's only going to benefit people."
"We look towards Scandinavian countries and we want to be like them," says Becca Skeoch, 21, who thinks "a government in Edinburgh would understand our culture more than in Westminster."
She criticises the "negativity" of the campaign for the Union saying it is "not filling anyone with hope."
But this view is by no means universal among young people on Orkney.
On 24 March a mock referendum was held following debates in Kirkwall Grammar School and Stromness Academy.
There were 86 "Yes" votes and 269 "No" votes, a result hailed by pro-union campaigners as evidence of widespread scepticism about independence on the islands.
Back in the pub, James Watson, 21 disagrees. "Westminster", he says, "is too far away to be in touch with more rural communities in Orkney and Shetland and the Western Isles."
For several months now those three island groups have been campaigning side-by-side for greater powers.
'Gathering currency'
The "Our Islands Our Future" campaign is led by three council leaders, Gary Robinson of Shetland, Norman Macdonald from Eilean Siar (Western Isles) and Orkney's Steven Heddle.
In the bright morning sunshine at Kirkwall Harbour, Councillor Heddle says he is pleased with the way the campaign is going.
It is "gathering currency," he says, not just in the islands, but "in local government in general."
He wants increased local decision-making, community benefit from future development, control of the Crown Estate which administers the seabed and foreshore, "island-proofing" to prevent legislation having unintended consequences for the isles, and better representation within Europe.
Mr Heddle also dismisses the suggestion of full independence for the islands saying that has "certainly not been a part of our campaign."
But he does believe in the principle of self-sufficiency, which he says is driving the move for more powers.
"Because we're islanders, we have a mindset that means we like to fix things ourselves," he says, adding "if you want something to happen in a hurry, that's the only way that you can do it."
"We feel that as the people who live here, we care more than anyone else."