Light aircraft makes emergency landing in Stonehaven field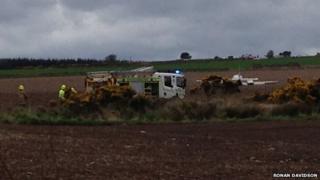 A pilot has escaped serious injury when he was forced to make an emergency landing in a field.
The 60-year-old landed the eight-seater aircraft near Limpet Wood - about two miles outside Stonehaven, Aberdeenshire - at about 16:00.
It is believed the plane developed an engine fault and lost power.
Five fire engines from Stonehaven and Aberdeen arrived at the scene shortly after reports that an aircraft had come down.
The pilot had climbed out of the plane by the time the firefighters arrived.
He had suffered only minor injuries and was checked over by an ambulance crew.
One eyewitness said: "I saw the plane fly overhead and noticed that both its propellers weren't spinning. There were also two helicopters flying closely behind it."
Scottish Fire and Rescue Service group manager Mike Dickson said: "The crews first in attendance arrived to find the pilot was standing clear of the aircraft, which he had managed to safely land within a field and isolate some of its systems."
Steps were then taken to reduce the chance of a fire.
Mr Dickson added: "Firefighters ensured the plane's fuel and power systems were isolated and covered the aircraft with a blanket of fire-retardant foam.
"They also removed some of its cargo and had two main jets standing by as a further precautionary measure."