Oil and Gas UK concern over CAA helicopter safety rules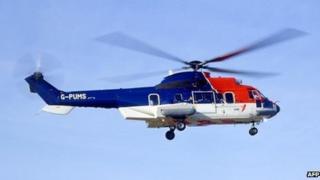 Serious concerns about new helicopter safety rules due to be introduced later this year have been raised.
Industry body Oil and Gas UK said the new rules demanded by aviation officials risked damaging safety rather than enhancing it.
The Civil Aviation Authority called for operational changes in a major report earlier this year, including restrictions on passenger size.
Oil and Gas UK said the June deadline was ambitious.
The warning came in evidence to a separate inquiry being held by the Commons Transport Select Committee,
Oil and Gas UK said limiting the number of passengers per flight would mean more flights, putting additional pressure on pilots and ground crews.
Realistic and achievable
The changes would also affect the ability to carry out maintenance, it said.
The select committee's chairman, Louise Ellman, has now written to the CAA asking for a response to the points raised.
The CAA said it believes everything it has proposed is realistic and achievable.
Four people died last August when the CHC-operated Super Puma AS332 L2 helicopter crashed off Shetland.
It was the fifth serious incident involving an offshore helicopter in the UK sector since 2009.