Aberdeen student accommodation plans to be unveiled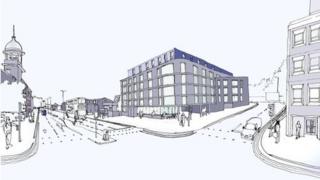 Plans to transform a retail site near the University of Aberdeen into modern student accommodation are set to be unveiled.
The Alumno Developments vision for Powis Place is to be the focus of a public consultation.
The building would house about 270 students.
Alumno's proposals for the site will be on display at Powis Gateway Community Centre from 15:00 to 19:00 on Tuesday.
A full planning application is expected within two months, with the developer aiming to complete the development by August 2017.
Managing director David Campbell said: "There is continuous demand for high quality student accommodation in Aberdeen, given its increasing importance as an educational hub where supply has been short in recent years.
"Our plans go some way to addressing that problem, in close proximity to the University of Aberdeen."