Ythan Estuary seal cull application withdrawn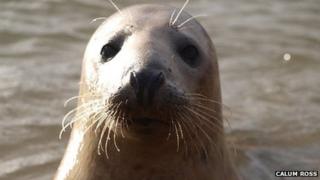 A fishing firm which was planning to cull seals at a prominent Aberdeenshire colony has withdrawn its application.
The Montrose-based Scottish Wild Salmon Company had asked Marine Scotland for permission to shoot seals on the Ythan Estuary.
The company plans to install nets around the foreshore and lower estuary to catch the salmon as they enter and leave the river.
However, the area is home to hundreds of common and grey seals.
The seals, which bask on the sand bank, are a popular tourist attraction.
The company had applied for a licence to control the seals, but said on Tuesday night that it had withdrawn that request.