Independent Aberdeen Waldorf School to close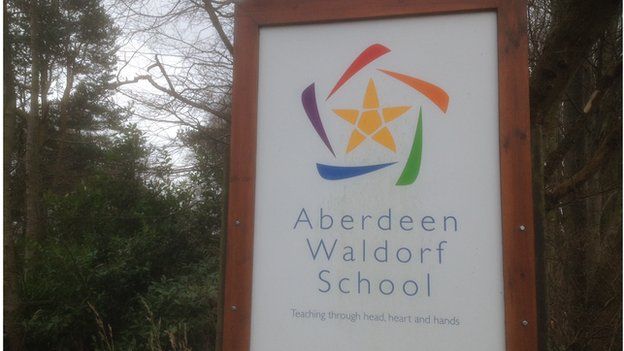 An independent Aberdeen school which has been at the centre of an investigation is to close this summer.
The Waldorf School, in Craigton Road, was founded in 1977.
Last month, the Care Inspectorate said it had received complaints about "staffing and the care of children" at the Waldorf School Kindergarten.
The school council said the "very difficult" closure decision came after reviewing the school's financial position.
Donald Phillips, chairman of the school council, said: "It is with great regret that the school council of the Aberdeen Waldorf School has taken the decision to implement a planned closure of the school, between now and the end of the school year.
"The Aberdeen Waldorf School council took this very difficult decision after reviewing the school's current financial situation.
"It is our legal duty to ensure that the school has enough funds to operate and we have sufficient reserves to continue to the end of the school year and to fulfil our legal obligations."
He explained: "In recent years we have been successful in introducing new financial measures to reduce the school's running costs.
"On that basis, we had planned to continue with our five-year plan to strengthen the financial status of the school.
"These plans depended on maintaining, or building, pupil numbers. However, events of recent weeks have forced the school council to re-evaluate them and we are aware that a number of pupils will be leaving the school at the end of this year.
"We had hoped to keep the school open longer, and the Care Inspectorate and Education Scotland have been working with us to try and do so following their recent inspections, which will be published on 22 April.
"However, events over recent weeks have forced us to re-evaluate the financial situation.
"As a result, the school council has decided that, in these circumstances, a planned closure of Aberdeen Waldorf School is the only responsible option."
A Care Inspectorate spokesperson said: "We will work closely with the service, the local authority and Education Scotland to assist in whatever way we can."
An Education Scotland spokesperson said: "Together with the Care Inspectorate we have been working closely with the school to explore options for it to remain open, however the school has made the decision that it will close.
"We recognise this will be difficult for all concerned and we will continue to work with the school to ensure all pupils' transitions to new schools go as smoothly as possible."
An Aberdeen City Council spokesman added: "Parents and guardians seeking information about school places in the city should contact the Family Information Service on 01224 814828."
The Aberdeen Waldorf School was formerly based in the Gallowgate in Aberdeen city centre.
In 1996, the school moved to the former campus of the Aberdeen American School, in the suburb of Cults.
Related Internet Links
The BBC is not responsible for the content of external sites.