Former So Solid Crew member Ashley Walters fined for Aberdeen assault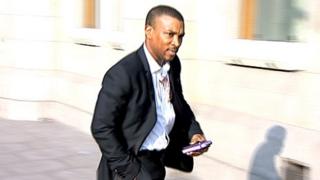 A former member of the band So Solid Crew has been fined for an assault in Aberdeen.
Ashley Walters, who is now an actor, and co-accused Karan Singh, a DJ, both admitted assaulting a security guard in the city's Bridge Street as he made his way home from a shift last September.
Both were fined £600 at Aberdeen Sheriff Court.
Walters was a member of So Solid Crew, who reached number one with 21 Seconds in 2001.
He later had a solo career under the name Asher D, and has appeared in several television programmes.
The court heard Walters had confronted the off-duty security guard after he had been involved in an incident at McDonalds on Union Street earlier in the night.
Walters and Singh had been handcuffed at the restaurant by Barry Anderson.
Police were called and after officers viewed CCTV footage of the incident the pair were released and allowed to go.
'Seeking revenge'
Mr Anderson noticed when he left the restaurant that the two men were following him.
He called the city's CCTV control room and asked for the pair to be monitored by the cameras.
Mr Anderson was confronted after turning from Union Street onto Bridge Street where he was grabbed by Walters and pulled to the ground.
Singh then began kicking him on his body.
Both fled the scene and police were called.
Sheriff Graeme Napier fined the pair £600 each and told them the incident "smacks of seeking vengeance against someone who made a complaint against you and therefore has to be taken seriously".