Bus operator First Aberdeen 'freezing or reducing most fares'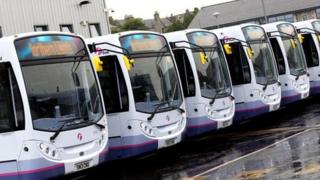 Bus operator First Aberdeen is freezing or reducing the "overwhelming majority" of its fares this year, it has been announced.
The company said the move was possible because of the increasing number of passengers.
The new fares come into force from 30 March.
Director Duncan Cameron said: "We are carrying more than 1,000 extra passengers a day year on year, thanks to extensive improvements we've made."
Speaking about a 10p increase to the Stage 3-5 adult single: "I'm pleased that we've been able to limit any increases to just one fare - and it's a relatively small increase."