Sex offence ex-policeman Ian Paterson has jail sentence overturned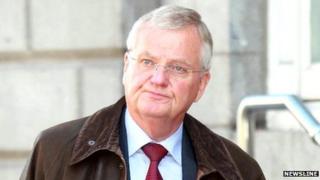 A retired senior police officer jailed for 18 months for sexually assaulting three women has had his prison sentence overturned.
Former chief superintendent Ian Paterson, 62, made inappropriate remarks to the women and touched them while working as a charity boss.
Paterson, of Tarves, was jailed at Aberdeen Sheriff Court after being found guilty last year.
Appeal judges ordered Paterson to do 250 hours of community work instead.
He was working at the Aberdeen Council of Voluntary Organisations when the offences happened.
'Sheriff erred'
Paterson had insisted that his behaviour was not sexually motivated and claimed that he was just a tactile person.
But a jury found him guilty of three offences after listening to the evidence of the women about incidents between July 2011 and October 2012.
At the Court of Criminal Appeal in Edinburgh, judge Lord Menzies, sitting with Lord Drummond Young, agreed with defence advocate David Moggach that Sheriff Annella Cowan had gone too far.
Lord Menzies told him: "We are persuaded that the sheriff erred in taking the view that only a custodial sentence is appropriate and in imposing a sentence of 18 months in prison.
"We wish to make it clear from the outset that the conduct of which you were found guilty at trial is not acceptable.
"However, sadly, in the context of the offences that come before our courts we are driven to accept Mr Moggach's description of these offences as relatively minor.
"These offences are not minor but they are less serious than many other cases."