Malcolm Webster case: Wife killer drops appeal against sentence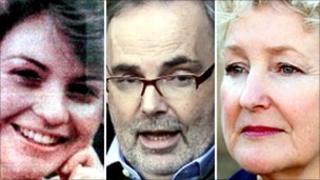 A man who was found guilty of murdering his wife in a car crash in Aberdeenshire has dropped his appeal against sentence.
Malcolm Webster, 54, originally from Surrey, was jailed for a minimum of 30 years for murdering Claire Morris in 1994.
He was also convicted of staging a similar attempt to murder his second wife in New Zealand.
The Court of Criminal Appeal heard he was dropping his appeal.
Webster had previously lost an appeal against his conviction.
Defence QC Gary Allan said: "Mr Webster has consistently and vehemently denied his guilt of the crimes of which the jury has convicted him.
"His position remains entirely unchanged. He maintains he did not commit the crimes and the verdicts of the jury represent a gross miscarriage of justice.
"He has now instructed me that he considers that for me to advance any argument against his sentence might wrongly give the impression that he had changed his position and is now seeking simply to mitigate his guilt."
Lord Eassie sitting with Lady Clark and Lord Wheatley allowed Webster to drop his attempt to cut his sentence.
Insurance payout
Webster was found guilty in 2011 of murdering Ms Morris, who was originally from Kent.
He had received a large insurance payout after her death.
The death of the 32-year-old - married for just eight months - in the crash was investigated and treated as a tragic accident.
Her husband survived, and went on to marry Felicity Drumm in 1997.
In 1999, the couple were involved in a car crash in New Zealand, with Webster again at the wheel.
It set in motion a police inquiry spanning the globe, as more questions were posed about what exactly had happened in both cases.
However, it was a chance meeting in 2006 that would offer a pivotal breakthrough, when a relative of Webster's surviving wife mentioned details of the case to a police officer at a conference.
It ended with the husband of the two women facing a long-running trial and being convicted.