Super Puma crash: 'We are one big family fighting this together'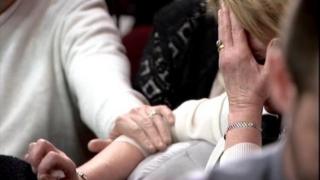 As the families of Flight 85N sat down to face the cameras in Aberdeen, the air throbbed as a helicopter passed overhead.
It was an eerie reminder of why we were here.
Every day hundreds of North Sea oil workers place their faith in helicopters and those who manufacture and operate them.
The relatives of some of those who died say that faith was betrayed twice: once by Bond's failure to operate "by the book" and again by a failure to bring anyone to justice.
Stuart Wood was just 27 when he died in the crash on 1 April 2009.
Dressed in black and with her voice trembling a little, his mother Audrey Wood said she had been "surprised and disappointed" by the decision of the Crown Office not to bring criminal charges.
Prosecutors reiterated that decision today, releasing a statement which said: "The evidence presented during the FAI [fatal accident inquiry] has not altered the insufficiency of evidence, therefore the decision not to hold criminal proceedings remains the correct one."
Ms Wodd said: "How they arrived at this decision will haunt us." She added that the FAI had heard about what she described as "multiple breaches of health and safety".
Her words were echoed by Tom Marshall, of Thompsons Solicitors, who said that the starting point for the Crown should be to consider a charge of corporate culpable homicide.
"That's at the top of the list," he said, but even if prosecutors thought such a charge was a "bridge too far", there was still the Health and Safety at Work Act.
Mr Marshall said he could not understand why the Crown had ruled out a prosecution before considering all the evidence, and in particular why they had done so before interviewing any witnesses from the manufacturer, Eurocopter.
Lorraine Doyle, whose father Raymond Doyle, 57, died, agreed. "I'll never understand how they came to that conclusion," she said.
For her, the inquiry had provided some answers but "not enough".
Ms Doyle said: "It's been a hard, hard five years."
But it is clear that the families have taken strength from each other.
'Collective gasp'
During the news conference, those sitting behind the cameras offered each other gentle gestures of support: holding hands and squeezing shoulders.
"We are one big family fighting this together," said Audrey Wood.
And the family reacted as one on hearing Bond's response to the FAI, that the company hoped it would bring "a degree of closure to the families, friends and dependents of those who died in the tragedy".
There was a collective gasp as the statement was read out. Several relatives shook their heads vigorously. There were tears too.
"We will never be 'closed'," said Ms Wood. "Our men were lost and, no, we will never have closure. We relive this every day. This is not something that will go away."
Ms Doyle agreed, saying: "The whole inquiry just points fingers at Bond, at Bond's negligence.
"They didn't follow procedures and for them to come back and say, 'I hope it brings closure' is a bit of a kick in the face, really, for us."