Helicopter lands in Aberdeen after warning signal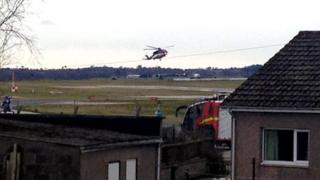 A helicopter operated by Bond Offshore has landed at Aberdeen heliport after sending out an emergency signal.
The Sikorsky S92 landed safely on Thursday afternoon.
Bond said it was flying to the Ensco 100 drilling rig when it turned around after "a technical warning on one of the engines".
The emergency services were put on standby. Bond said this was a "routine precaution" and checks were being carried out on the aircraft.