Mackerel quotas agreed after dispute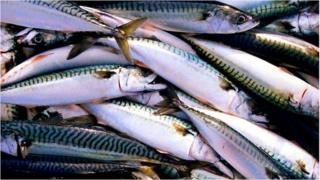 Mackerel quotas for EU, Faroese and Norwegian fishermen have been agreed after a long-running dispute.
No deal has been reached with Iceland, but it is hoped further talks could take place.
The EU has been at loggerheads with Iceland and the Faroe Islands since they upped their quotas in 2010.
Scottish fishermen said sacrifices and concessions were being made by all sides, with Scots quotas dropping, but stocks were improving.
The Faroe Islands will receive 12.6% of the total allowable catch, with the EU and Norway sharing 71.8%. A further 15.6% has been set aside for Icelandic and Russian catches.
'Highly significant'
Ian Gatt, chief executive of the Scottish Pelagic Fishermen's Association, said: "Whilst we believe the shares awarded to the Faroe Islands are too high, there are positive aspects to the deal.
"The big prize is certainly capturing an international fisheries agreement for the north east Atlantic's most important stock.
"It is highly significant that an important element of this long-standing dispute has finally been resolved as it will go a long way in ensuring that the fishery can be regulated and carefully managed again."
Bertie Armstrong, chief executive of the Scottish Fishermen's Federation, said: "This deal has now led to the signing of an agreement between the EU and Norway on North Sea quota share arrangements for vitally important whitefish stocks such as cod, haddock, whiting and saithe, with access for Scottish boats into Norwegian waters now coming into operation with immediate effect.
"It also brings forward the likelihood of Scottish whitefish boats gaining access to Faroese waters, which has been denied to them for the past four years because of the mackerel dispute."
'Still challenges'
Scottish Fisheries Secretary Richard Lochhead said: "After all these years waiting for a deal, this agreement will bring welcome relief to the Scottish fishing industry."
Mr Lochhead added: "Our fishing industry still faces significant challenges, with our fleet having to endure cuts to quotas while at the same time working towards a landing obligation and reducing discards.
"However, I welcome the end of these talks and I am pleased that the negotiations managed to significantly mitigate reductions in some of our key traditional stocks of haddock and whiting."
Some skippers in Shetland were less pleased with the outcome.
Simon Collins, executive officer of Shetland Fishermen's Association, which represents one third of Britain's pelagic vessels, said: "Quite simply, this deal has rewarded Faroese piracy - and fishermen in Shetland are disgusted with the size of the reward."
He added: "The fact is that a vastly reduced quota share seriously compromises the outlook for future generations, as the mackerel stock could contract as well as expand in the course of its natural cycle."