'North Sea Ring' at Scottish Traditional Boat Festival in Portsoy in June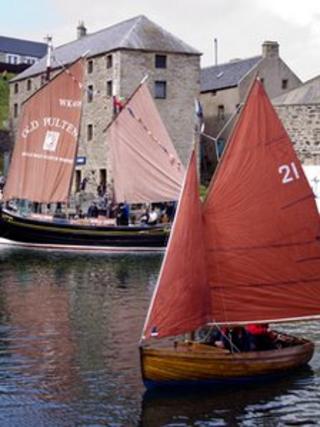 A new group aims to bring people from across Europe together to share their maritime skills and cultural heritage in Scotland.
The so-called North Sea Ring will meet for the first time at the Scottish Traditional Boat Festival in Portsoy in June.
Representatives from boat clubs and groups in countries including Sweden, Germany and Norway will take part.
STBF chairman Roger Goodyear said it was a "fantastic opportunity".
Mr Goodyear said: "Each member will be sharing their cultural heritage, and working together to discover and promote our shared links and develop skills that might otherwise become lost.
"The educational exchanges between the different countries will not only bring new cultural and economic activity to the local area but will also increase its profile, nationally and internationally.
"The response we have had so far has been overwhelmingly positive and we already have committed interest from several organisations."
"There are so many cultural aspects that link to boat-building across the North Sea countries, such as food, music and textiles, and we believe the building of wooden boats is the core that provides the stimulus for activity and coming together."
Thousands of people attend the annual boat festival, which is in its 21st year and will take place from the 27-29 June.
The initiative will feature on BBC Radio Scotland's Out of Doors programme on Saturday morning.