Rescued yachtsman Andrew Halcrow describes 'brutal' weather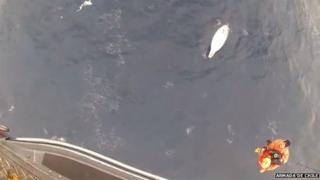 A yachtsman from Shetland rescued as he tried to circumnavigate the globe single-handed has described how "brutal" weather ended his bid.
Andrew Halcrow, 54, was in the Elsi Arrub when he was caught in extreme weather off Chile at the weekend.
Writing on his website after the rescue, he said: "It was so brutal that at first I was sure a ship had rammed into us."
Mr Halcrow said he could still hardly believe what had happened.
He wrote: "We had been hit 12 hours before, on the Friday night, by a massive wave, which threw us over. The worst one yet. It's possible the shock load from that maybe weakened the mast as well.
"If you had been in a car, you would have thought a truck had slammed into you."
Previous attempt
On the Saturday morning a wave hit the yacht and threw it on to its side with a "huge crash" before it righted itself.
He wrote: "There was no mast, well, there was, but what was left of it was lying in a mangled heap over the port bow.
"The mast was so strongly rigged I thought it would stand up to nearly anything."
He was picked up on Sunday afternoon by a Chilean naval helicopter.
The Esli Arrub set off from Falmouth in Cornwall in November.
A previous circumnavigation attempt in 2006 was abandoned when Mr Halcrow became seriously ill.
The yachtsman was 350 miles south west of Australia when he was struck down with crippling stomach pains and sickness.
He was able to ring his home and Shetland Coastguard raised the alarm. Mr Halcrow underwent emergency surgery for apendicitis.