New Aberdeen fire engines to be red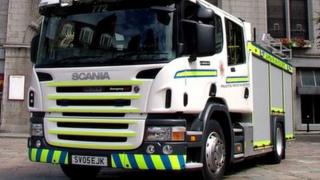 New fire engines in the north east of Scotland are be coloured red rather than the current white.
The Scottish Fire and Rescue Service said it wanted to standardise the colour of its vehicles across Scotland.
The former Grampian service announced on 1 April 1998 it was going to paint its vehicles white, leading some people to assume it was an April Fool's joke.
But the decision was based on a study that said people found white and yellow easier colours to see at high speeds.
SFRS assistant chief officer David Goodhew said: "Over time Scottish Fire and Rescue Service plans to standardise the colour of fire appliances across Scotland in line with the practice of seven of the eight former services.
"Red is the colour most synonymous with fire appliances the world over."
The announcement came as the Scottish Fire and Rescue Service said it had bought 16 new appliances across the country at a cost of £3.8m.
Aberdeen, Inverness, Dunfermline and Kirkcaldy will each get two of the new vehicles, with one each for Alloa, Falkirk, Lockerbie, Annan, Stranraer, Dumfries, Kingussie and Tain.
"The new appliances are state-of-the-art and will further enhance service delivery to communities across Scotland," Mr Goodhew said.