Aberdeen mural scheme aims to help increase civic pride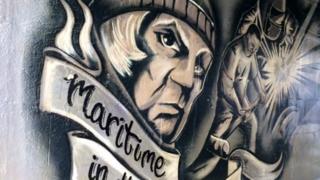 A new scheme is aiming to revive some of Aberdeen's neglected streets with colourful murals.
The city's Aldelphi lane has been given a makeover with two new murals painted across the entrance to the 19th Century lane.
The revamp is part of a plan to clean up the city centre and and help increase civic pride.
The murals have been warmly received by the public and the scheme could be extended to other parts of the city.
'Pleasant area'
The Silver City Street Revival project has been commissioned by Aberdeen Inspired, a business group which is funding a clean-up of the city centre, with the help of the Owlcat Artists Collective.
The group aims to try to draw in more business and tourism, as well as increase civic pride.
Aberdeen Inspired's chief executive Susan Bree praised the murals and said: "I have no doubt that people will now find this a far more pleasant area to visit."
Local artist Jim Devron said he hoped that his mural would help locals see the lane in a new light as well highlighting the industrial heritage of the area.
His design incorporates the image of Sir David Gill, an Aberdeen-born astronomer who helped improve navigation for ships by using the position of stars.
Mr Devron said: "The idea is to give people new enthusiasm for the area, it's beautiful place.
"People just need to look up to see the architecture that exists here."
The public's reaction to the colourful murals has been positive with people being drawn into the lane by the artwork.
Aberdeen Inspired said the scheme could now be extended across to the nearby Castlegate area of the city.