Scots yachtsman Andrew Halcrow rescued from Chilean storm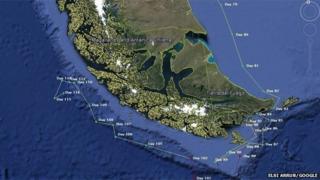 A yachtsman from Shetland has been rescued after his mast broke in a huge storm off the coast of Chile.
Andrew Halcrow, 54, was attempting to a sail single-handed non-stop round the world but was caught in extreme weather west of Cape Horn.
His yacht Elsi Arrub was damaged and he was forced to issue a May Day call for help.
Although the weather is still very bad, Mr Halcrow was airlifted by helicopter to safety. He was uninjured.
He was taken to Punta Arenas in the south of Chile by a Chilean navy helicopter.
A statement posted on his website on Sunday evening said: "Andrew just phoned from Punta Arenas. He arrived after the re-fueling stop in Felix to a media circus, TV cameras and journalists which he definitely was not expecting.
"He has hit 'the wall' now and needs to shower, eat and sleep. He will meet with a local Admiral tomorrow who will talk about how it might be possible to find Elsi. He is sounding fine."
The Esli Arrub set off from Falmouth in Cornwall in November.
A previous circumnavigation attempt in 2006 was abandoned when Mr Halcrow became seriously ill.
The yachtsman was 350 miles south west of Australia when he was struck down with crippling stomach pains and sickness.
He was able to ring his home and Shetland Coastguard raised the alarm.
The UK coastguard liaison station in Falmouth was contacted. Officers got in touch with their Australian counterparts and a nearby tanker was sent to Mr Halcrow's aid.
He was airlifted off the ship and taken to hospital where he required emergency surgery to have his appendix removed.