Press and Journal farming editor Joe Watson dies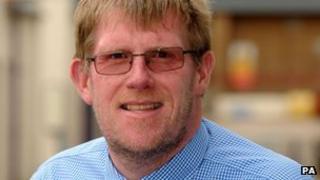 The Press and Journal's award-winning agricultural editor Joe Watson has died at the age of 43.
Mr Watson joined the regional newspaper as a young reporter after first working at his home town's weekly paper, the Turriff Advertiser, in Aberdeenshire.
A former pupil and prefect at Turriff Academy, he became the Press and Journal's farming editor in 1996.
Editor-in-chief Damian Bates said Mr Watson had been a "brilliant journalist".
He said: "Joe was a beautiful human being, a gentle giant and a skilled reporter who knew his subject inside and out.
"I can't believe he's been taken from us - we're all heartbroken."
Rural Affairs Secretary Richard Lochhead offered his condolences to Mr Watson's family, friends and colleagues.
He said: "I am shocked and saddened to hear that we have lost Joe Watson and, like so many people, I can't quite believe that he's no longer with us.
"I have known and worked with Joe for over 20 years since his days as a local reporter and in his role as the Press and Journal's farming man."
In a tribute, the Scottish Farmer magazine described Mr Watson as a hard working, campaigning journalist who had not been afraid to ask awkward questions.