Aberdeen councillor Willie Young intervened over ministerial visits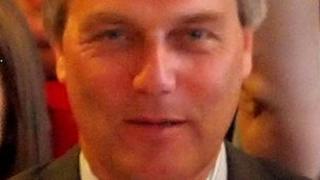 The Aberdeen councillor who wanted to ban Scottish government ministers from visiting council buildings personally intervened to block ministerial visits, BBC Scotland has learned.
Until now, leading figures at the authority have declined to say who took the key decisions, saying they were just following a protocol.
But it has emerged civil servants were contacted by telephone by Willie Young.
He told them it was policy no ministers were allowed on council premises.
This was until such time as a dispute between the council and the government was resolved.
Three Scottish government ministers have been refused permission in recent times.
Raised concerns
The full Aberdeen City Council met on Wednesday to decide to review the protocol for ministerial visits, and a blanket ban on ministers was ruled out by the council's leader.
Labour councillor Mr Young, who said on Monday he wanted to ban Scottish government ministers, has insisted he has been following current protocol.
The SNP has already raised concerns that there was a secret and unofficial process to stop politicians visiting and that there was political interference.
Mr Young would not be interviewed on Thursday on the matter, but insisted ministerial visits will be dealt with on a case by case basis.
SNP Donside MSP Mark McDonald said of Mr Young: "He has acted completely in a dictatorial fashion.
"This was never council policy. He's not fit for office."
Last year, Labour was unhappy about First Minister Alex Salmond's visit to a school during a by-election campaign.
The visit to Bramble Brae Primary came two days before the Donside by-election, which was won by the SNP.
Mr Salmond said the visit was at the request of parents worried about the school's future.