Deepwater Horizon investigator issues offshore safety warning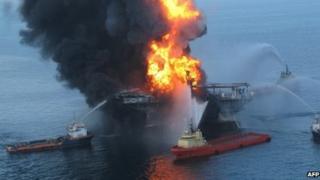 One of the lead investigators into the Deepwater Horizon explosion is to tell a conference in Aberdeen the industry has much to do to improve safety.
The 2010 disaster in the Gulf of Mexico killed 11 workers and spilled an estimated four million barrels of oil.
A major safety conference is being held at the Aberdeen Exhibition and Conference Centre on Wednesday.
David Pritchard believes the industry worldwide is not doing enough to eliminate major incidents.
Ahead of the event, he told BBC Scotland: "We continue to have an inordinate amount of, for example, blowouts.
"In fact they have accelerated over the last couple of years.
"The statistics prove it, it's not just me that says it, our data proves we are really not doing a better job at managing our highest levels of risks and consequences."
The safety conference will also hear from Lord Cullen, who held the public inquiry into the 1988 Piper Alpha disaster in which 167 men died and whose subsequent report led to major safety improvements offshore.