First inmates at new Grampian prison in Peterhead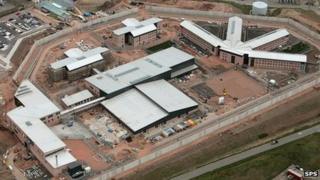 Scotland's newest prison is due to take in its first inmates.
HMP Grampian in Peterhead replaces the town's old jail, as well as Craiginches prison in Aberdeen. Both of them have been shut down.
The new prison will have the capacity for about 500 inmates - including adult males, young offenders and female prisoners.
It is the first Scottish prison to incorporate all three groups on one site.
HMP Grampian will also have a dedicated unit for training prisoners for a return to work when they are released. The unit will include a telephone marketing centre.
Peterhead jail was closed in December last year and Craiginches was shut last month, with inmates transferred to other facilities until the new site was ready.
During the transition a "virtual visiting" scheme which allowed prisoners to keep in touch with loved ones via video link was piloted.
The Peterhead and Craiginches sites are both up for sale and are due to be demolished.